Districts, Cities & Villages
Most Live in Rural Areas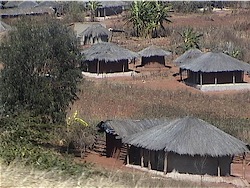 While the nation of Malawi is primarily a rural culture with most of the population living in rural areas, recent famines and high levels of unemployment have created higher levels of migration to the cities. Malawi is divided into three regions, and 27 districts. Each region has its own capital, though these are much smaller than capital cities in most other nations. In many cases a trading center of 5,000 or 6,000 people will serve as a district capital. The nation's capital is located in Lilongwe in the central part of the country. It contains the national government offices and most embassies and world organizations that operate in Malawi. The southern city of Blantyre serves as the banking and commercial center of the nation. Malawi is governed by a federal system patterned after England and America. In addition to a western style governmental there is also a functioning tribal authority. It holds a strong influence throughout the nation. These two forms of government work well together with the federal system dealing with matters that have ramifications nation-wide. The tribal system deals with the immediate "village" matters and problems that arise in rural areas across the nation.
Northern Region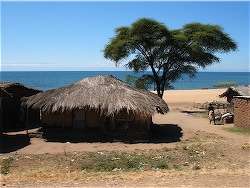 The northern region contains 6 geographical districts. They include Chitipa, Karonga, Likoma, Mzimba, Nkhata Bay and Rumphi. The capital of the northern district is Mzuzu with a 2008 population of 128,432. The total population for the northern district was 1,698,502
.
Central Region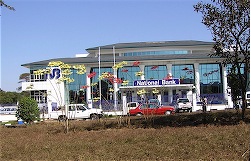 The central region contains 9 of the nation's 27 districts. They are: Dedza, Dowa, Kasungu, Lilongwe, Mchinji, Nkhotakota, Ntcheu, Ntchisi, and Salima. The capital for the region is Lilongwe and it had a population of 669,021 in 2008. The population for the entire region was listed as 5,491,034.
Southern Region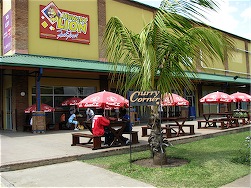 The southern region is the most populated and contains 12 districts. They are: Balaka, Blantyre, Chikwawa, Chiradzulu, Machinga, Mangochi, Mulanje, Mwanza, Nsanje, Thyolo, Phalombe and Zomba. Blantyre, the commercial center of the nation hosted a population of 661,444 and its neighboring community of Zomba, the capital during the colonial period, had a population of 87,366. Total population for the southern district was listed as 5,876,784.
Twenty-nine communities listed 2008 populations of more than 10,000 people. Nine were in the northern region, ten in the central, and the remaining thirteen in the south. A number of these communities are also recognized as trading centers. Beyond the cities and the trading centers are the tiny mud-hut villages that dot the landscape of the rural areas.
The total population in 2008 was listed as 13,066,320. This has risen from a population of 9,933,868 in 1998. (Statistics from National Statistical Office, Zomba, Malawi)
Pictures of Cities, Trading Centers and Villages