Unlike many African nations the country of Malawi remains primarily a rural society. An astonishing 90% of its people are engaged in agriculture, and over 50% live below the poverty line. Neither manufacturing, nor the export of natural resources are sufficient to generate enough tax revenue to offset the national debt, and the people remain in a state of perpetual food shortages because of the lack of modern farming methods, mechanization and government subsidies. Small village farm plots are tended with hand hoes just as they were hundreds of years ago, and individual family labor creates the food needed for each family. Large corporate farms are few, and co-operative farming by the villages is still beyond a distant horizon.
The Malawi Project started its agriculture programs during the major famine period of 2001-03. With an eye to helping the starving people of Malawi, but also careful to avoid creating long term dependency on food aid, the Project instituted a comprehensive program that would be activated when famine strikes, but also a long term objective of helping people get on their feet and provide for themselves when food shortages subside.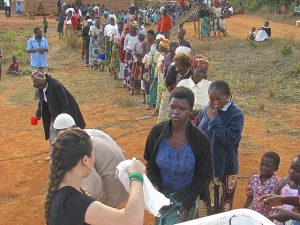 Famine Aid
When famine strikes as it did in 2001-03 and again in 2015-17 major food shipments have been contracted and sent directly to the country for immediate distribution. Purchases are made locally when the supply is ample, and outside the country when local supplies are short. Food is distributed in all three regions of the country where needs are the greatest. It is distributed without consideration of race, religion, tribal or ethnic background. Criteria for supplies are based on need only. As the seriousness of famine recedes the Project shifts to programs that help the people get back on their feet and provide for their own needs.
Drip Irrigation
Through distribution and training village farmers are encouraged to increase crop production with the use of drip irrigation systems supplied by the Malawi Project. Through the years 11,000 drip lines have been shipped to Malawi and distributed to all three regions of the nation. Drip systems cut the amount of needed water (often transported great distances), but also created the opportunity for farmers to plant an entire second crop, this one in the dry season.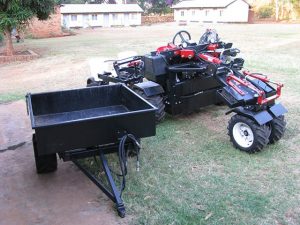 V-Tractors
In a joint program with Tom Rich, President and Founder of Agricultural Aid International the Malawi Project has been able to deliver 8 farm tractors like no nothing else in the world. After careful evaluation and planning Tom developed a tractor called the V-Tractor (V is for Village). This unit is designed primarily for small, family or village farm plots in third world nations. These units have made great strides in helping the "faming by hand" culture of Malawi to understand the value and importance of increased crop production through mechanization.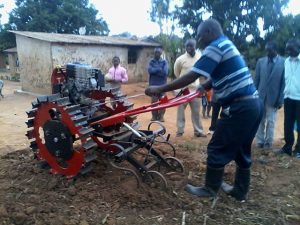 Walk Behind Tractors
The success of the V-Tractor has spawned the creation of a small, hand unit called the Walk Behind Tractor. These units allow for a larger, low cost, distribution of farming units in this, one of the poorest nations on earth.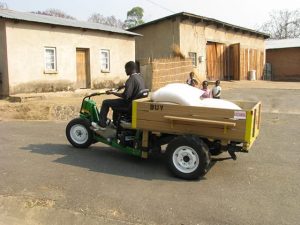 Basic Utility Vehicles
The average Malawian walks ten miles a day. Most items that need to be moved in the villages is done by placing it on one's head and walking. These are just two of the facts that indicate the need for mechanized utility vehicles for the villages. Based in Indianapolis, Indiana the Institute for Afforable Transporation, led by its founder, Will Austin has developed the Basic Utility Vehicle (BUV) to address the needs of developing nations. The Malawi Project has placed three of these units in Malawi. They offer basic, simple transportation for school children as well as functioning as workhorses for movement of commodities, equipment and supplies. For agricultural deveopment and getting prduce to market a unit similar to the BUV is very important.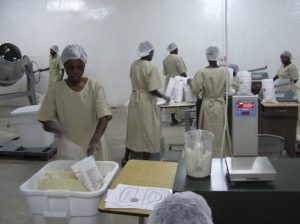 Food Production Plant & Training Facility
At the height of the 2001-03 famine the Malawi Project was instrumental in bringing resources, expertise and finances that would make possible the construction of a major food processing plant near Lumbadzi, Malawi. Today the facility is able to process enough food to feed between 60 and 100,000 people a day. The same financiers who put in place what would be referred to as the Madalitso Food Processing Plant next funded the Mtalamanja Agricultural Village, a 50-building complex and large man-made lake where farm families could learn the latest technologies in agricultural and farm production.