A "BIG OL" JUG IS TRANSFORMED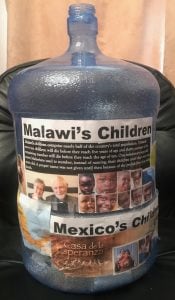 Rochester, Minnesota … When entering the church auditorium, one can easily mistake the large jug near the front of the building for a large water jug with writing on the side. But during the assembly, when Steve Sikes, the minister for the Rochester Church of Christ, signals the children it is time, there is an excited rush to the front of the auditorium.
As the children rush eagerly to the front they stop along the way to gather coins and bills from adults who have gathered for Sunday morning worship. It is contribution time, and few can be more excited about giving than the children who are thrilled to help children in Mexico and Malawi. While many have little, or no concept of where these countries are located, there is no doubt about their joy of the chance to participate.
In a few weeks the jug will be filled, then the funds removed, and sent to these two countries to help the people. Some of the young people in Rochester may also use some of the funds to, "go shopping" for needed supplies for the children in Mexico and Malawi.
The Rochester church, slightly over 100 members in size, is recognized for its sponsorship of the Hands of Compassion ministry offering free housing to family members, and patients who come to Mayo Clinic for treatment. One can learn more about this ministry at: https://www.hocrochester.com