Ribbon Cutting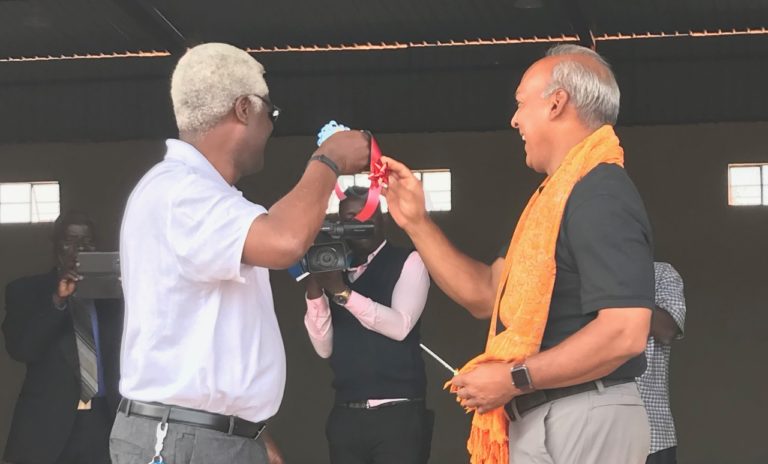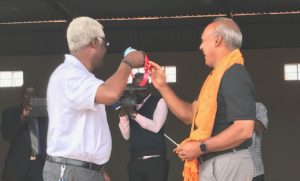 Lilongwe, Malawi … The television people moved into position as the crowd moved closer to the loading dock door. Red and blue ribbons were strung five feet above the concrete floor extending from door frame to door frame. The camera started rolling as Chester Kabinda-Mbewe, in his white Action for Progress shirt, and Bryon Bhagwandin, in his black Malawi Project shirt stepped up beside Alfred Chiwale, owner of Diamond Construction and prepared to cut the ribbon that would officially make the opening official.
Meanwhile, in a distant village in southern Malawi a small child is crying from lack of food. Soon food from the distribution center would be coming her way. The administrator of a government hospital in the central region is concerned he does not have enough medical supplies for all of his patients. Those will soon be coming his way. Children in nearby villages with disabilities do not realize that today marks the beginning of hope for a mobility device that will allow them to go to school, and a teacher will be there to greet them with brand new textbooks with which to learn. All across the land hope rests in the resources that will soon enter and exit from this building.
But for the moment everyone's focus is on the three men standing in front of the ribbon. Click! Click! Click! go the cameras. Snipe! Snipe! scissors close over the ribbons and the red and blue fall away. It is official, the new Action for Progress distribution hub is now open.