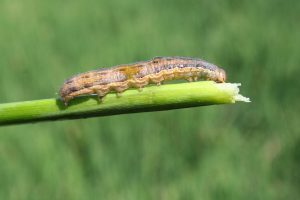 Lilongwe, Malawi … While significant, (and not so significant) headlines dominated world news in late 2017, a newsworthy event was unfolding in sub-Saharan Africa. "Lost in the shuffle" for attention-catching headlines read:
"Malawi; State of Disaster declared in 'fall armyworm' affected districts."
The story continued, "President of the Republic of Malawi Professor Arthur Peter Mutharika has declared a state of disaster in all districts affected by fall armyworms."
The report listed 20 of the 28 districts in the country affected by the disaster, or an estimated 133,083 family farms.
Even for the news outlets that recognized the critical news item, other 'hot' news crowded the armyworm catastrophe out of the world news cycle quite quickly. After all, with the potential crisis with North Korea and Iran, ongoing government investigations, and major fires in California, who had time to tell about an armyworm infestation in Malawi? Obviously, Malawi was not a squeaky wheel in world affairs, so it was not front page newsworthy.
The insect destroyed harvest in April and May 2018, resulted in grain bins only partially filled, signaling the coming crisis. Famine for many is inevitable. Suffering will overwhelm the day.
When will the shortage reach the main headlines? Or will it?