NDI MOYO – FRONTLINE IN THE FIGHT AGAINST AIDS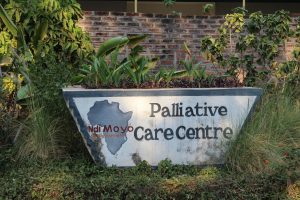 Salima, Malawi … Leaving the pristine beauty, rolling waves, and tan colored beaches of Lake Malawi we follow the tarmac thread 11 kilometers to the historic trading center of Salima, slightly inland from the west coast of the Lake.
In the time of African slavery Salima was infamous as a slave-trading center on the western edge of Lake Malawi. Literally thousands of people saw their last moments of freedom from this small African village. Those days are in the distant past, but today a new problem makes this part of Africa a place where thousands of people experience their last moments of freedom from disease and immanent death. This is because Salima has gained notoriety as a hotbed for HIV/Aids in Eastern Malawi. There are a number of causes for HIV throughout the country and in Salima; Salima is the crossroads for trade and trucking in this part of Malawi, blood transfusions with untested blood (in some areas of Malawi over the years), barbers, especially those in the rural areas, using unsterilized razors, the lack of protective gloves for the medical people, and hygienic methods when preparing bodies for burial. There is also the ever present problem of unprotected sex and promiscuity.
Following the main road to the center of town, we make a turn toward our destination. One wonders, as hundreds of people pass our vehicle, "How many of these people will soon learn they have Aids? And how many will die before we return in another year? How many?"
Ground Zero
Turning at the gated complex we see the sign that indicates we have reached our destination, "Palliative Care – Ndi Moyo." In the hot zone, ground zero, where it is happening hope is replacing hopelessness. The very word "Palliative" means, "soothing, painkilling, and calming." "Ndi Moyo" means "a place giving life."
If we were on the front line of a conventional battle one would expect bullets whizzing past our heads, shells exploding across the battlefield, roadside bombs blowing up vehicles, and target seeking drones creating mass causalities. You see and hear none of these on this battlefield. Driving through the gate you suddenly find yourself inside walls where safety, quiet, meditation, security, treatment, and caring seem to float across the courtyard just as the smell of a hot cup of coffee on a brisk morning hour attracts one's senses.
Walking toward us is Lucy Kishindo Finch, a Malawian whose passion has built this place of refuge out of the rocks, sand and hopelessness that previously stamped its indelible scar on those whose lives were nearing a disease ravished ending. It came about because of a young soldier boy she met on a visit to Malawi, whose life was ending in terrible pain. Lucy decided when she could come home, after being away for 38 years, she would find a way to help keep this from happening again.
"It is every person's right to not die in pain," she says, eyes slowly filling with tears as she remembers that soldier boy in the barrack's hospital.
"I could not do anything. All I could do was listen to him cry out in pain. And finally when he stopped crying, he was dead," she recalls. Her face reflects the pain of remembrance that cuts deep in her caring heart.
In 2002 Lucy returned to Malawi and took up her mission to find a way to fulfill her plans of giving hope, love, acceptance, and care to a segment of the population of whom almost everyone else was afraid, and had stepped away from the suffering and dying.
By 2006 her commitment had gained sufficient support to open the doors of Ndi Moyo to all who suffer severely with chronic pain due to any type of cancer or other painful life-threatening illnesses.
Here, inside the safety of the high fence, the large half domed structure brings education, training, Western pain-killing medicine, and caring. All around the property the richly manicured garden paths bring serenity, hope and comfort. Among the herb and vegetable gardens comes a wealth of helpful information on nutrition and natural herbs that take the place of modern medicines when, Morphine and other opioids are not available.
It is true there are no guns, no explosions, no shelling, no bullets, but it is a battlefield never the less. The battle is against suffering, pain, disease, rejection and hopelessness. Each day Lucy and her staff of 22 march out onto the battlefield and challenge the enemy. Each day they win a few inches or a few feet. It is a long battle. It will not be won in the near future. It will go on one battle at a time, one person at a time, and one day at a time. They are committed. They are there every day.
The Malawi Project is pleased to share and offer help to this venture by Malawians to serve and help Malawians. Our appeal is for contributors to continue to enter the field of battle alongside this group of dedicated Malawians, and help confront this terrible plague on society.
For more information on how you can help, contact the Malawi Project at www.malawiproject.org . Ask for ways to help Ndi Moyo.