FAMINE REACHES CRITICAL STAGE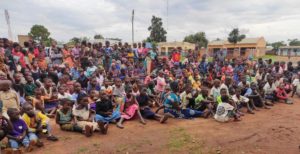 Lilongwe, Malawi … In late January the United Nations reported 16 countries in southern Africa, including Malawi, are facing food shortages (Malawi News, Jan 18-24, 2020). The story quoted the World Food Program (WFP)'S Regional Program Director, reporting this crisis is impacting 45 million people, many of whom are women and children. Again, this year, Malawi is faced with another food crisis coming on top of several cycles of shortages that have left many dead from starvation. The current situation is the result of bad weather patterns that have led to flooding and drought over a wide area, resulting in food shortages.
But food shortages are not just statistics, they are real people, and it is the people the Malawi Project and Action for Progress are focusing their attention. Through highly organized programs those most in need meet at a prearranged community location, at a specific time, where food is distributed in a very orderly program.
On this particular day Wilson Tembo, Executive Director for Action for Progress, comes face to face with the sadness of famine and pain. While the people of his nation are generally happy, smiling, warm and quite friendly, these characteristics are not seen on this day, in this place. The people are too weak to smile, they are too hungry to be happy. They need help badly.
One of the children who reflects this sadness is Laina Ndeleya, a 9-year-old girl from Lilongwe. She is being seriously affected, as she discloses that to find food has become a serious problem. She has, at times, been going to bed without any food. Wilson observes, "Looking at her face, it is visible that she is at high risk of malnutrition. She is not happy. She is weak."
Even in a weakened state, she walked a great distance to get food from this distribution site. More than 300 orphaned and vulnerable children had come from different villages. They are all in need, none can afford to buy food, even though they are actually starving.
After receiving the food, Laina was excited about her portion of rice meals. However, she could not bring forward a smile. She is starving.
The top picture shows those who were authorized to come and receive food, and the bottom pictures show 9-year-old Laina.