GLOVE TOTAL PASSES 200,000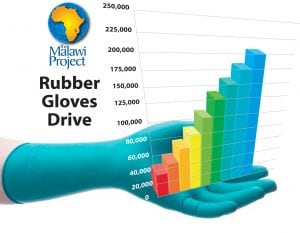 Indianapolis, Indiana … Coming at just the moment it is needed Glove America has discontinued a line of Vinyl-Lightly Powered general-purpose gloves that are badly needed in Malawi hospitals, health care centers, and for first responders. While the line is ending, a large inventory still remains to be liquidated at greatly reduced rates.
BIG SALE GOING ON
Most gloves cost between $8.00 and $12.00 per hundred, but for this liquidation sale, this particular glove is massively reduced in price, in boxes of 10 per case, at $1.99 per hundred. When a purchase exceeds $500.00 the shipping cost is free.
BUY THEM TODAY
A number of groups and individuals supporting the Malawi Project have ordered these gloves while the supply lasts and have had them drop shipped directly to the Malawi Project, 3314 Van Tassel Drive, Indianapolis, IN 46240-3555. To order go to:
https://gloveamerica.com/store/browse.php?cat=7
PASS ON THIS OPPORTUNITY
We ask that you click on the Facebook link at the bottom of this story so it will post to your Facebook, and share this story and need with your friends. Three years ago the opportunity afforded itself for the Malawi Project is accept empty pill containers for Malawi. While that program ended with receipt of over 4 million pill containers, the readers of our website had clicked on it to the tune of over 5 million people. Imagine what it could mean for medical people in Malawi if the exposure to the critical need for glove reaches that same 4 million?
Let's give it a try, and see just how far we can take it! Click on the Facebook icon below.