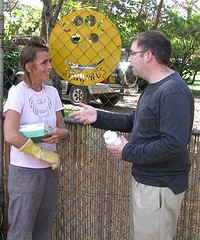 "It is the kind of question we have heard over and over for as long as we have been taking teams to Malawi."
Speaking is Suzi Stephens, a co-founder and one of the Directors of the Malawi Project.
"Everyone is insecure at first, and they are afraid they will not have a purpose when they reach the tiny nation of Malawi. It does not take long, however, for them to realize how important their visit is to the people who live in tiny villages scattered across the sub-Saharan landscape."
Dick Stephens, co-founder of the Project, picks up the story about the Gourleys.
"They had a lot of questions, but neither of us were worried about what they would find when this young couple arrived on their first trip to Africa."
"They had planned for months, and in their luggage was actually thousands of pencils for the students, along with paper and other school supplies. These things are so badly needed, as the children in the schools often have no pencil or paper with which to take notes. For that matter, people all through the culture often do not have a pencil or paper. You can't imagine how excited they are when you have bring pencils and paper. The Gourley's learned this first hand as they traveled around the country on their first trip. Whether it was a school in Senga Bay, a library built for the community by a paratroop battalion, the high security prison in Zomba, or the farm of Mama Kadzamira, Brent and Molly found receptive audiences for all of the things they brought from America. We were pleased to have them in Malawi, and pleased as well with the support and supplies given to them by the Oak Hill Church of Christ in Evansville, Indiana.
In the picture Samantha Ludick, owner of the Cool Runnings Lake Resort, accepts medical supplies from Brent Gourley for use through her Clinic at the Gate. This program gives minor medical aid to hundreds of villagers in the area along Senga Bay. Thousands of village people live in this area, yet none have a motorized vehicle that can transport them to a distant hospital. They come to Ludick for medical help.
For information about how your school group, scout troop, youth group, or just you as an individual can help get school supplies to the children of Malawi, please contact us at: info[at]malawiproject.org