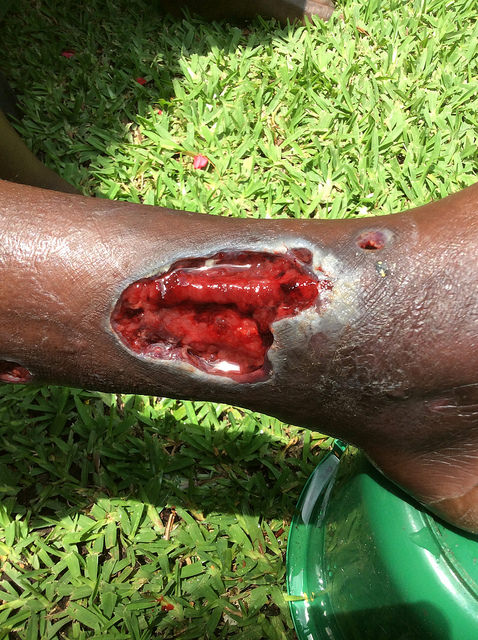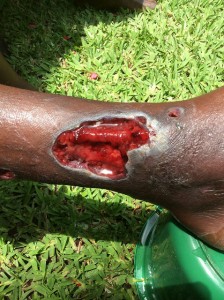 He Has A Hole in His Leg!
Senga Bay, Malawi …"Madam, please can you come to the gate as one of our neighbors from near the primary school has a wound on his leg."
Then in a few moments came the second appeal. "Madam it's not really a wound it's a hole…."
Not asking any questions I simply walked to the gate, where I found a villager standing on one leg resting his body on the gate. Without asking I simply get a staff member to assist him inside to a bench in the garden.
He sat down with a sigh, and propped up his leg. "Wow," I thought to myself, "My staff member was right, it's not a small wound it is more like a hole." I asked him what happened, how long had his leg been like this…
Don't Want to be a Bother
"Well mum," he began, "It's been like this for a month. At first it was just a small bump, like a pimple. As I thought it was a pimple I didn't worry. Then one day I woke up and it was like this hole. I've no money to go to the hospital. I'm sorry to bother you."
"Bother me," I thought. "How can he think he's a bother when he's in pain and has been for weeks?" I try to explain he is not a bother and that I'm glad he felt he could come to me for help. He should understand that it will take weeks and he will need to take medicine as well as come to me every second day for a dressing change.
"No problem mum, I thank God that you are here helping us in the village, may God bless you."
"How do I thank all the people who work with the Malawi Project for their assistance with drugs, bandages, ointments and the like. Because of their generosity I am able to help people in my village. THANK YOU and God bless you."
– Samantha Ludick
                                                                                                                                                                                                                                                                        "Clinic at the Gate"