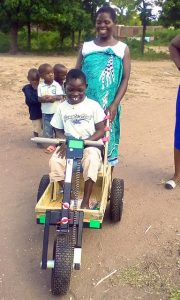 10-year-old Yankho Harlod
 Banja Village, Chikwawa District, Malawi … How deep is the pain in the heart of a mother who watches her physically challenged child remain confined to the house while his friends and neighbors can be seen outside playing and having fun together?
What is the pain like for a mother who knows one day she will be gone, and her handicapped son will be unable to care for himself?
What does a child dream for when there is no hope they will ever move about in any way other than to crawl about on their hands and knees in the dirt?
These questions are well known to 10-year-old Yankho Harlod and his mother Alice Mainala of Banja Village, Malawi. She has lived the pain ever since Yankho was born, and he has lived with it every day of his young life. Alice reached the point she could no longer continue when she could no longer carry her growing boy on her back.
Change in a Heartbeat
Life has an interesting way of changing in a moment, the twinkling of an eye, the single beat of a heart, the moment the right person comes into view. This happened to Yankho and Alice the day they met with Wilson Tembo of the Malawi Project. Thanks to the men and women of Mobility Ministries in Demotte, Indiana, the Mobility International facility in Columbia, Missouri, and the Malawi Project, Tembo was able to hand over one of the children's mobility units to Yankho and his family.
Hope springs eternal and Alice can now watch her son move about with his friends, peddle his way to school on his own, and begin the long road of possibililty for a successful future. Who can find the words, that fit such a gift, to those who will never meet, but whose efforts make these days possible?