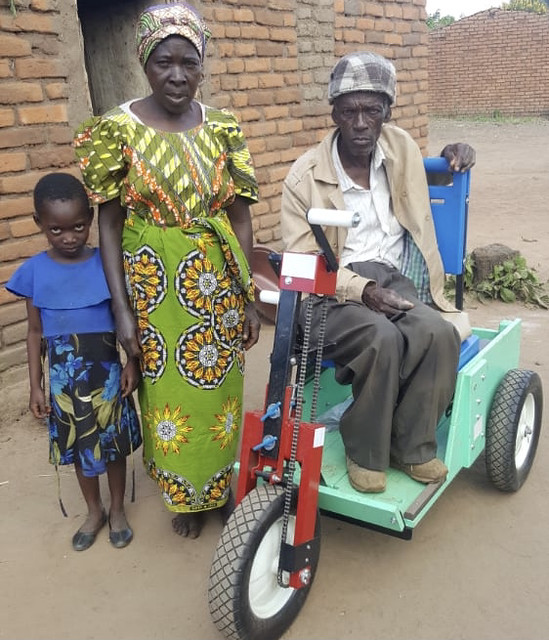 Lilongwe, Malawi … "It was a day I will never forget," he said, "a day I nearly kissed the Earth goodbye. While I was cycling back home after an unsuccessful business day at the market, I was involved in an accident. A truck hit me from behind as I cycled along the side of the road. I lay unconscious on the ground. Sadly, the driver did not stop, and there was no one who saw the accident. I was all alone. After some time, two people on bicycles saw and took me to the health center. They quickly transferred me to Kamuzu Central Hospital. My condition called for a special orthopedic doctor from outside the country. But it was at the Covid time, and there was a ban on him entering the country. He tried twice but failed because of the restrictions."
Mwachira Pasiyano, a 65-year-old describes the day in 2019 when everything in his life changed. When he was taken to the hospital, the Covid pandemic blocked the way for him to receive the proper care, and as a result he was left with one leg shorter than the other. He also was experiencing a balance issue that made it impossible to walk. The health authorities told him he would need a wheelchair, but the price was out of the question. He faced a bleak future. Years passed with no change in his condition or situation.
            Then he learned about Action for Progress. Its reputation for helping people has settled into the minds of many Malawians and, like the wind, the good news is spreading far and wide. This fact is seen in the large number of inquiries coming into the AfP offices. Just such a request came from Pasiyano as he arrived at AfP to make his appeal in person. His medical documents were reviewed, and he was given a thorough assessment. Then they stepped forward to help him. A brand new green and blue mobility unit was wheeled out and fitted for his use. He peddled around the AfP warehouse and grounds. Back home, his wife and daughter gathered with him for a family picture beside his new unit.
"Those who sent us here had said we would be assisted. We held on to that, and we thank God for this mobility unit," he said. "I might not go back to the exact lifestyle I used to have, but this mobility unit will assist me to go places where I have been unable to travel. I believe it will enable me to conduct a small business. Thank you to everyone who made this mobility unit possible."