INDIANA CHURCH DONATES TO FOOD SECURITY
Lebanon, Indiana … With the recent announcment the Malawi Project is espanding its agricultural development programs to help a number of villages, churches, and community development groups form co-ops and build community warehouses, the Lebanon Church of Christ stepped forward to be one of the first groups to extend financial help in the establishment of one of the grain facilities.
The Malawi Project Board of Directors, and its Malawi Director of Operations, Wilson Tembo have explored the potential to help in the establishment of these grass roots efforts to help offset periodic famine that plagues Malawi especially when weather change patterns influence the rains.
Three members of the Board of Directors for the Malawi Project are active in the Lebanon Church.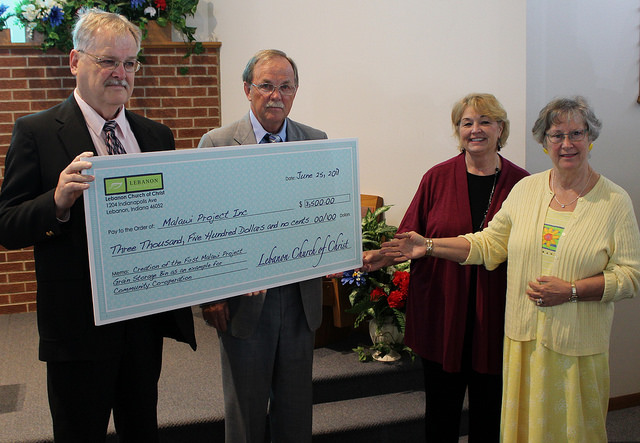 Pictured with a "Big Check" for $3,500.00 for one of the community storage buildings are: Left to Right, Marshall Merritt and Doug McDonald, church elders, and Sheila McDonald, Treasurer for the Malawi Project and Suzi Stephens RN Medical Director for the Project.