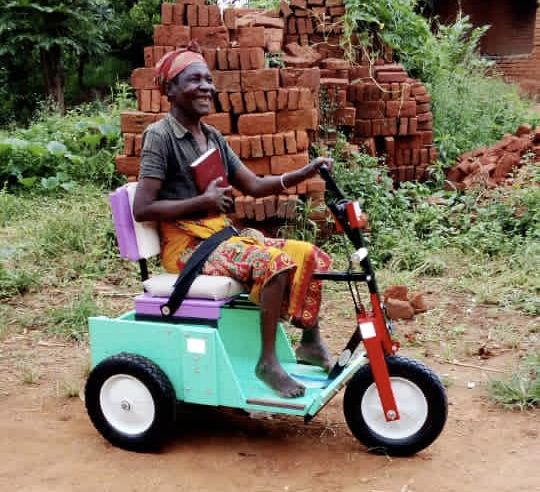 Rumphi, Malawi … For Maria Makankhala the birth of her baby brought great joy. But with one of the happiest moments of her life also came one of the saddest. Complications during the delivery left her unable to walk. While her husband and younger sister gave her unconditional support in raising her child, this did not satisfy her need to do more herself. While their love and support were her greatest assets it was still not sufficient for a mother who wanted to do more for her child. It was painful that when they were away from the house, she could not even fetch water for the child. At times she was unable to reach the hospital for her child's check-ups. Their repeated efforts to find someone to help with any sort of mobility devise failed. Then a local preacher crossed her path and Maria again told her story. Hope sprang alive again. He knew people in Jomo who could help her.
Regional volunteers working with the Jomo distribution center were contacted and they made a trip to Mwabata Village to meet with her. They indicated a positive response to her request. Though it had been a long time coming, now at 57 Maria would be able to get around. Her prayers had been answered.
While one team member was obtaining the details of her difficulty, the remaining members were assembling the unit. When it was completed, they stood by as she peddled the new turquoise and purple unit around the property. (Practice is always carried out under the oversight of the distribution teams when a new unit is delivered to insure a person knows how to properly use the unit). She passed.
Maria's face brightened as the team also handed her a new Chichewa Bible, thanks to those in the states who contribute funds for Bibles to go with the mobility units. She extended her appreciation to the contributors. "Thank you very much for the gifts and may the good Lord who knows how to reward, bless you with more energy, strength and knowledge so that you may reach to areas where He directs you to go," she concluded.