A recent email from schoolteacher Val Jensen in Pleasant Grove, Utah is reflective of the kind of sacrifice and commitment people are making to assist the people of Malawi. Val teaches at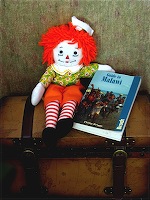 the Pleasant Grove School teaching.
        This past year Val and the children of the Pleasant Grove gathered large amounts of supplies for the children of Malawi. Toothbrushes, toothpaste, notebook paper, pencils and pens filled a number of boxes of supplies headed for Malawi.
            One item in particular holds a very special place in Val's heart. An email ahead of the arrival of some of the boxes reported, "There is a Raggedy Andy doll included that has special significance to me. A dear friend hand stitched it for her aging mother who was in the final stages of Alzheimer's. When her mother passed away a short time later, this friend gave me the doll for my firstborn child. My daughter is now 26 years old, but Raggedy Ann still looks new. Somehow it just seemed right that a special child in Malawi would benefit from an object that was created in and surrounded by so much love through so many years. I know it will find the perfect new home and bring joy to a child again.