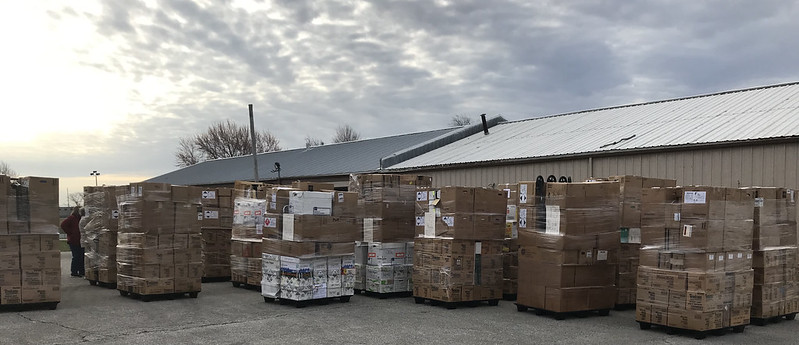 Lebanon, Indiana … Just one week after the first trailer, filled with hand sanitizer for Malawi's health care workers, left northern Indiana, the second trailer was being loaded in Lebanon, Indiana. 
            Rain threatened from the southwest as the volunteers from the Lebanon Parks Department rushed to complete the task of filling the 40-foot shipping container with 2,200 boxes of donated supplies for Malawi. Pallets of medical supplies, clothing, and books for Malawi libraries were expertly inched into the tight quarters of the container as the task moved forward in record time. The clouds continued to threaten from overhead, but the workers were up to the task. In only an hour they were able to complete the loading, leaving hardly enough space for a person to stand near the end of the trailer. Raindrops began to fall just as the last pallets were placed on the trailer, and the doors locked. A sign of relief arose from the group as Ken Keene, a newly appointed bookkeeper for the Malawi Project, attached the seal to the back door and signaled the time had come for the driver to pull away with the trailer contents, heading back to Chicago and the beginning of the 9,000-mile trip to Malawi. Preliminary estimates indicate the purchase value of the trailer's contents could surpass a quarter of a million dollars.
            Now, attention moved to the third container of the month, this one being prepared for departure from Mobility Ministries in Demotte, Indiana with 231 brand new mobility units for people throughout Malawi who struggle with mobility issues.