SHE IS MY DAUGHTER, BUT SHE IS HEAVY!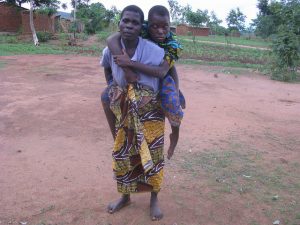 Masanjala Village, Malawi … Chrissy Golosi is 22 years old and lives in Masanjala Village in Southern Malawi. Located near Zomba, once the capital of this tiny African nation, the tribal authority over her village is Chief Chikowi.
Chrissy was born with no problems in her feet and legs. Later she fell ill and remained in Zomba District Hospital for 4 months. When her condition did not improve she was moved to Queen Elizabeth Central Hospital in Blantyre. She remained there an additional 9 months and according to her mother Chrissy had been stricken with polio. Not only could she not walk, she suffered near constant back pains.
As Chrissy grew older the problem of getting her from place to place became more and more difficult. The task fell to her mother to carry her on her back. "It has been a tough experience," her mother said. "Now that she is getting older, it is very tiresome on my back."
Upon receiving the new P.E.T. unit (Personal Energy Transportion) her mother proudly says, "Now, I will be able to carry her to and from the church with ease."
"The mobility unit will be a useful tool and a great means of transportation every day," adds Wilson Tembo, Distribution Officer for the Malawi Project in his nation. "Secondly, the availablity of this unit will help the mother attend to other important matters when not having to carry Chrissy on her back all the time."
These mobility units are being made available through a working relationship between Mobililty Worldwide, Demotte, Indiana and the Malawi Project.