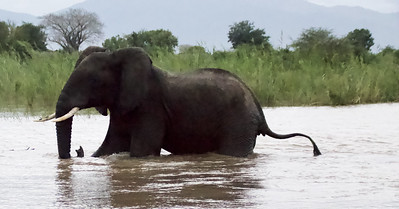 Liwonde Game Park, Malawi … As our small boat emerged from a patch of tall grass near the riverbank, we suddenly found ourselves gliding dangerously close to a large elephant, she was making her way across the shallow reed beds of the Shire River*. As we floated up behind her, the grass hid the view of our boat. She did not see us coming. Suddenly we were there, and she realized it. According to our guide an elephant does not wish to attack you but will give you two warnings to move away before she comes after you. In this case the elephant followed the accepted practice and warned us. She turned toward us, flapped her giant ears, swished the water with her trunk, and sounded a bone jarring trumpet.
Then she turned away and waited. In moments, when we did not leave, she sounded the alarm again with another bone jarring trumpeting sound. This time the guide turned the boat toward deeper water.
"She only gives two warnings," he said. "Then she will come to persuade us to leave. We need to get out of her way before she does that."
Over the next 24 hours we saw more hippo than we could count, crocodile, bush buck, water buck, wart hog, kudu, baboon, money, and an array of birds that defied count. That doesn't count the sounds in the night that indicted animals were quite close to our tents. It was a short reprieve from the travel on pothole filled back roads, walking and climbing over steep inclines, and meetings filled with the proper niceties that took more time than the American mind can fathom. All in all, it capped off the week in a way that filled a scrapbook of pictures to be remembered for a lifetime.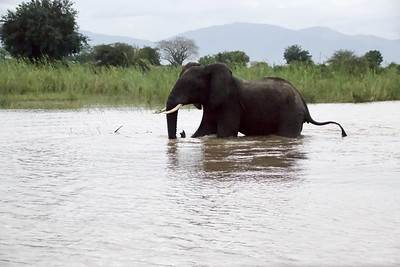 The Shire River is the only source for water to exit Lake Malawi, the fifth largest freshwater lake in Africa. Water from the Shire travels south to the mighty Zambezi River, then turns east and travels to the Indian Ocean.