TWENTY-SIX YEARS & COUNTING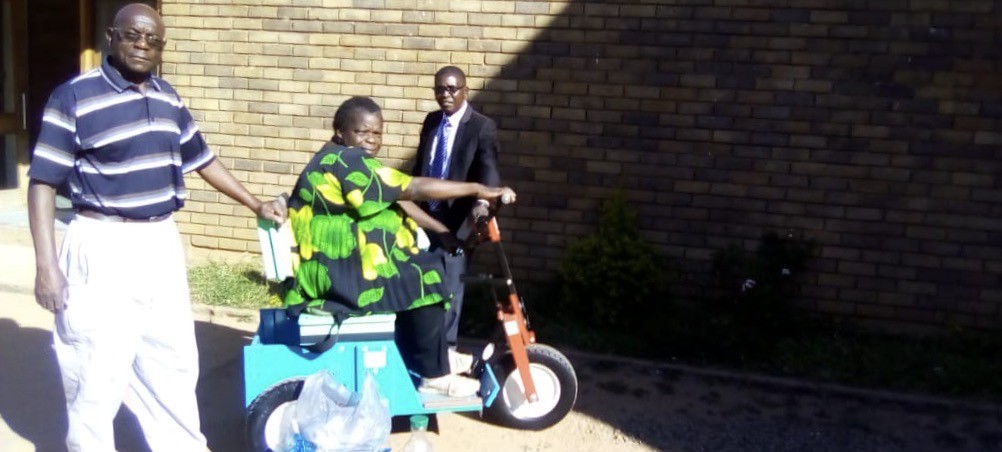 Blantyre, Malawi … Ireen had been working as a nurse in the health care field for twenty-six years when suddenly in 2016 it all ended. She was struck with a devastating stroke, and found herself no longer able to provide for herself, or carry out a second business she needed for income. Not only was she unable to be mobile, but the offices she needed to visit for her business were not accessible for a person with mobility issues. Unlike nations in the west, the situation in Malawi businesses, offices and even hospitals leaves a person with disabilities in an impossible situation. She went from being a dependable, independent provider for her family, to an invalid who could do little for herself. Then one day listening to the radio she heard about Action for Progress and the mobility program being carried out nationally. As she continued to listen, she heard Wilson Tembo, the executive director for AfP, describe the mission of the group and realized she might qualify for a unit. The fact that the units were free gave her a great deal of joy because she could never afford to purchase one.
Ireen contacted Action for Progress, and it was determined she not only qualified, but they would have one ready for her. With her new mobility unit, Ireen can now move about and is again able to do things for herself, even to attending church services each Sunday, something she had been unable to do since her stroke. Ireen expresses her gratitude to Almighty God and prays for the continued success of Action for Progress in its efforts to help the underprivileged in Malawi.