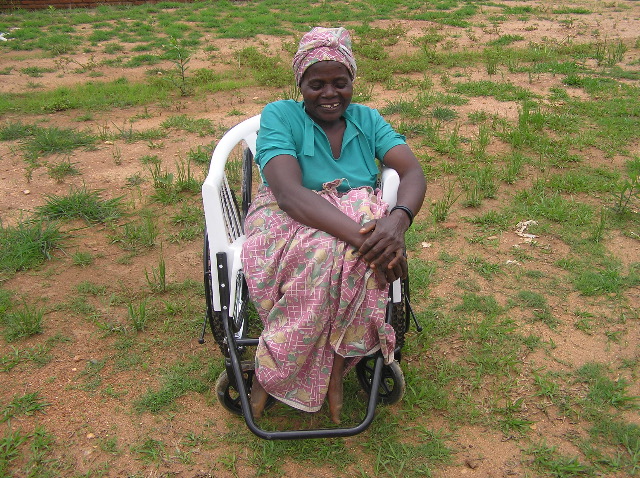 Likisina Khumbulasi was born thirty years ago. She learned to walk as a small child but at the age of six she became very sick. She nearly died from the unknown illness which paralyzed her legs and hand. After sometime she learned to use her hands but remains unable to walk.
    Likisina comes from Takomana village, near the Mponela Trading Centre about 50 miles north of the capital city of Lilongwe. Likisina is a widow with five children. She operates a small business at the Mponela Trading Centre.
"Thank you very much for this gift. Every day I had to crawl when going to the market to sell things" said Likisina while crawling toward a wheelchair. "I want to assure you that this wheelchair will do a lot to me and my children. I have children that are going to school, and it has been very difficult for me to meet their basic needs, as I am a widow and cannot walk. Today is a day that the Lord has made, and I will rejoice and be glad. May God bless those people who have made it possible for me to have this wheelchair."
This story of hope provided by the Malawi Project and the Free Wheelchair Mission.  The Free Wheelchair mission donated 550 wheelchairs which were distributed to disabled Malawians by the Malawi Project.
         Together, we are changing a nation.