Patricia Chiluye's Story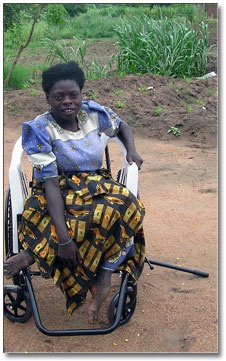 Patricia Chiluye was born in 1978, but is not sure of her birth date. She was crippled from birth, and has never been able to get around on her own. Both of her parents died during 2001-2002 famine, and this has left Patricia with no one to care for her. She has a small business, but she has had to crawl to the market place each morning. The police in the area have advised her it is too unsafe for her to crawl, so she must get another way to work or stop going out into the traffic. If she does this she will loose her business, and there is no one to help her. No one in her neighborhood has the money to help her with transportation. Patricia has two brothers, Chimwemwe 19 and Jim 15. She has one sister, Aginess 32. If she looses her business there will be no one to care for her or her brothers and sisters, since she is also supporting them. She lives in a community of 1,200 people called Chikosa Village in the area of Traditional Authority Chiseka in Lilongwe District. The village area is about 15 kilometers south of the city of Lilongwe, the capital of Malawi.
Moses Banda, Communication Director for Blessings Hospital reports her reaction when she was given a wheelchair.
"We could see the tears running down her face. Patricia asked that we tell you, 'your gift has made it possible for me to care for myself, and my brothers and sisters. We will be able to support ourselves, and not have to be given a hand out by others. Your example of helping me has given me the opportunity to show everyone they can succeed, as I am doing, if someone just gives us a hand up.'"