Ronald Jacob's Story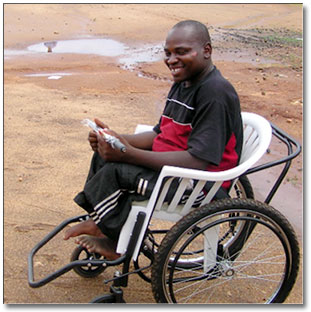 It was mid-December, and the rains of summer had begun to fall heavily in the central African nation of Malawi. To the farmers in the tiny villages that dot the landscape it is a blessing from God. The rain will bring the harvest in April that will break the time of hunger.
But to one man in the capital city of Lilongwe the rains bring pain and difficulty. That man is Ronald Jacob, and Ronald is crippled. He can only get around by dragging his body across the ground, or during the times he is lucky enough to have a friend who will carry him on their back, or their bicycle. Ronald is from Njolomole Village in the southern district of Ntcheu. He was born with no legs. Though he tries to work he often cannot reach his office, since the distance from his house to his office is 2 miles.
It is December 21, and the torrential rains of the sub-Sahara are falling heavily on the capital. Water is everywhere and any effort to duck the streams that have formed in the streets is useless. But on this day Ronald does not see the difficulty because he sees, in the distance, something that will change all of this for him. A friend comes to pick him up and take him to Blessings Hospital in Lumbadzi. Ronald reaches the hospital, is warmly greeted, and then becomes the first to receive one of the brand new wheelchairs that have just arrived in Lumbadzi. The wheelchair is a gift from Free Wheelchair Mission in America, and has come to him through the work of the Malawi Project and Blessings Hospital. Today Ron is very happy. He offers these words,
"I wish to thank you for this gift, this gift is not for me only, and I am looking after six people. These people will use this wheelchair in a sense that I will be using it to go to work everyday and when I receive my salary I do support them. It is not only us disabled that are benefiting from these wheelchairs, our families are also benefiting from these wheelchairs."