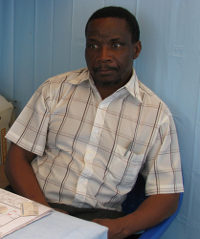 It was just like all other mornings for a 12 year old Linda Jailors when she woke up from her bed and walked out to bask herself in the sun. She was feeling a bit cold and thought the sun would help correct the coldness over her body.
No sooner had she got outside her parents' house that she collapsed and fell prostrate onto a bare ground which made a landscape of their tiny house.
The mother ran, picked up the girl and laid her on a reed mat by the verandah. This was followed by fanning and massaging. There were signs of life, but how much, no one could tell. The body was hot with fever. No one had a thermometer to tell the rise in temperature. No one had a lactometer either, to measure blood sugar levels.
A local village headman organized some young men to ferry the girl to a nearby hospital. The quickest mode of transport was by foot since the terrain of the land and the poor condition of an existing road was virtually impossible to drive through. The girl was put on a "hammock" and carried to hospital, which was about an hour of walking distance from the village.
On arrival, a doctor immediately attended to Linda. Her body registered a temperature of 104 degrees F. She was breathing spontaneously but with difficulty. She lay motionless on the examination couch and could not speak. Blood Pressure was 80/60 mmHg; Blood Glucose read 86mg/dl. A quick sample of blood was sent to the laboratory for a malaria smear and a complete blood count. A lumbar puncture was done too for a CSF sample to exclude meningitis.
No malaria parasites were identified in the blood sample sent to the laboratory. However there was a rise in the white cell count of the blood sample sent for a complete blood count. Also of note were markedly raised PMN's in the CSF sample.
The girl was immediately started on intravenous antibiotics and some analgesics also given. Her labored breathing warranted assisted ventilation but there was no mechanical ventilator available.
The poor parents waited outside with all hope for the best. They had confidence in the medical team that was dealing with Linda. On the other hand, the medical team wished they had a mechanical ventilator nearby; for without it the prognosis was poor.
The breathing deteriorated. All that ought to have been done had been done except for assisted ventilation.
In such moments, tears are first noticed in the eyes of those battling to sustain life. Tears of frustration and anger for failing to achieve what one could have easily accomplished were it not of being handicapped. Frustration because you know that all efforts will eventually be fruitless because of the absence of one piece of equipment. With it this death would not have taken place.
We saw the body turn blue and finally there was no more breathing. How do we break the sad news to the waiting parents?
This is not the end of the story because this is just one of those many children and adults who could have made it, but failed to pull through when they got too tired to continue breathing on their own.
Dr. Smith Chibaka
Lilongwe and Blantyre, Malawi