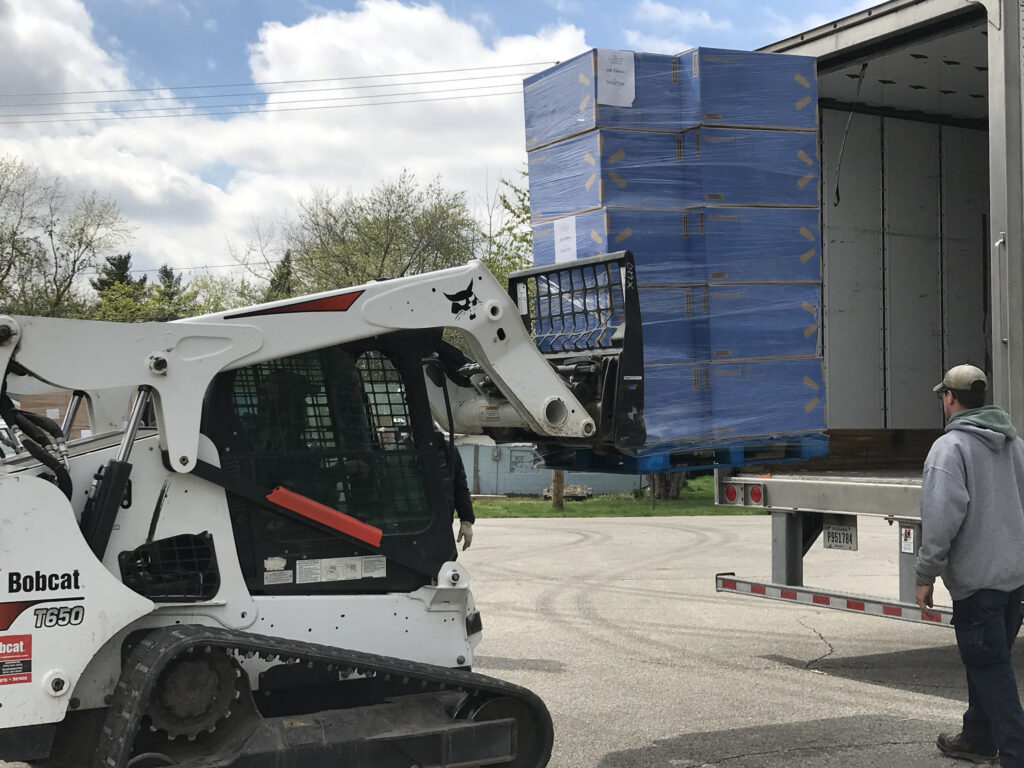 Lebanon, Indiana … The rain seemed to know when the trailer would reach Lebanon. This one would be the final shipment for 2021, and the ominous clouds were anything but reassuring. As the team of volunteers, including three members of the Project Board, stood in the warehouse doorway waiting for the truck to arrive there was time to reflect on the recent shipments that have added up to two successful years despite the Covid epidemic.
As the rain showers turned to a heavier rainstorm the truck arrived and pulled in close to the warehouse. The volunteers, who had interrupted their vacations to load this trailer, immediately jumped into the process. No one seemed to notice the heavy rain as they set rapidly moved one pallet after other to the open door and into the dry trailer. In less than an hour another trailer had been completed with nearly a million dollars in medical, educational, and agricultural aid for Malawi.
Although the past two years have seen only one member of the Project board being able to go to Malawi (Mark Thiesen made a two week trip the end of November and first of December), supply activity increased considerably. Unable to go to Malawi the board members in America increased contact with contributors. On the Malawi side the staff and board members of AfP handled the increase in shipments without missing a beat. Nine trailers in 2020 and eight in 2021 added up to a major increase in assistance nationwide. The team, under the leadership of Wilson Tembo, kept ahead of incoming supplies and the massive warehouse still had ample space to spare for more assistance. The professionalism of the Malawi team is a testament to the success of local teams in administering local programs that are outside the expertise of those who do not fully understand the culture and procedures.
Driveway and Delivery Vehicle
The driveway from the public road to the warehouse dock was completed before the beginning of the rains, and a sizeable amount of funding for a 3-ton delivery vehicle has already been raised. This vehicle will help reduce the high rental cost needed to deliver such a large amount of supply assistance throughout the nation in recent years. To assist in the purchase of the 3-ton truck before the end of January please go to: www.malawiproject.org/donate/
Continued support from Project contributors makes it possible to fulfill more and more of the requests for assistance that reach the offices of Action for Progress and the Malawi Project.
Pictured is one of the trailers being loaded from the Lebanon, Indiana warehouse in mid-2021.