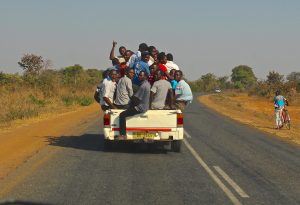 Getting Home Before Dark
Lilongwe, Malawi … While the people of impoverished Malawi own few cars there is an accident rate far out of proportion to its size. There are a number of factors, one of which is the careless disregard of many drivers for road safety and proper driving etiquette. Other factors also include the conditions of the roads, the large numbers of people riding on the tops of trucks and in the beds. The mini-buses often race from one place to the next filled to overflowing, with people who have no control over their future inside the older dilapidated buses. Broken pavement, animals or people walking unsuspectingly onto the highway, or the giant lorries crowding into oncoming lanes round out the dangers faced on the highways.
Night travel compounds the dangers many times over. People find great concern when they take any sort of journey outside the cities during the night hours.