IT WASN'T BAD, IT HELPS SAVE LIVES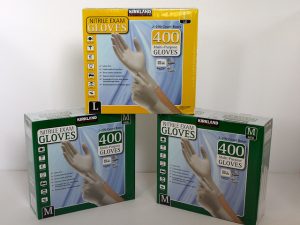 I had been sent to Orlando, FL for a conference in my business. I was getting ready for my return flight and logged in to the airline site to check in. As I checked in, I notice that I had been assigned a "middle seat." I prefer the aisle so I can get up and move around if needed or at least stretch my leg out into the aisle. Like most people, I really don't like the middle seat and avoid it any time I can. The problem is that I don't travel enough anymore to have frequent flier status allowing me to select better seats. I found that for only $20 I could upgrade and move to an aisle seat. As I was about to purchase the upgrade, the thought occurred to me that for the same $20, I could buy a 2-pack box of gloves (200 gloves in each box) that could be sent to Malawi. I remembered reading about the nurse that was certain it was only a matter of time before she became infected with HIV due to a lack of gloves while working in the hospital. I decided I could be a little uncomfortable for a few hours and better use the money to buy gloves. I didn't purchase the upgrade, but I must admit as I checked in for my flight the next morning I secretly hoped God would reward my sacrifice by providing me a free upgrade to first class, or at least to business class. No such luck. I had a good flight home, and realized sitting in a middle seat was not all that bad.
A few days later, I was talking with my daughters and niece, and I commented that a pair of gloves, that might save a life, could be purchased for one dime. I joked that maybe they should start a fund drive and call it, "Give a Dime, Save a Life". My daughter commented that she had a few dimes and my niece chimed in that she too had some dimes. We all started scrounging for dimes to see if we could put together enough for another $20 two-pack. At some point someone asked if we were just taking dimes or if they could toss in quarters and nickels. I assured them that would be fine. Soon, between my two daughters, my niece, my wife and a jar of change I had, we had gathered the necessary $20 in change.
My niece asked if she could purchase a pack on her own. She had received $20 in tips at work the night before, and shared that since others had been generous in giving to her, she should be generous in giving to others. Another $20 provided another two-pack of gloves for Malawi.
We took the money to purchase the boxes of gloves; three two-packs, a total of 600 pair of gloves. Maybe not a lot when the need is 1,000,000 but maybe enough to make a difference for a number of people. All it cost us was a middle seat for a few hours; a few dimes, nickles, quarters and pennies; and some tip money.
Dan Brewer, Noblesville, Indiana