MALAWIAN HONORED WITH HELP FOR HIS PEOPLE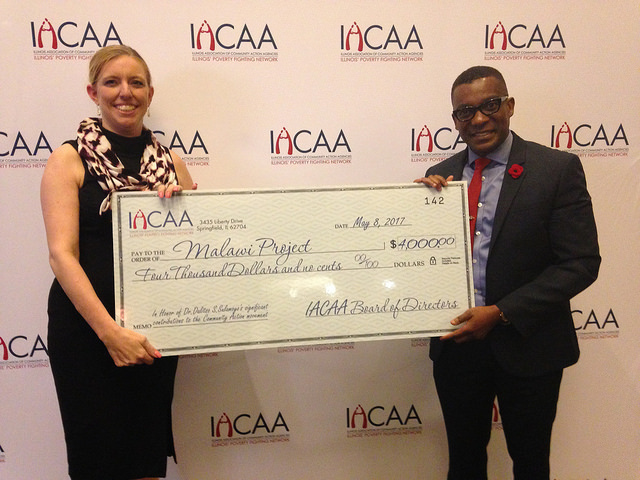 Pictured are Dr.Sulamoyo on the right of the "big check" and the Executive Vice President for the Agency, Niccole Clements.
Springfield, Illinois … At the age of 23 Dalitso Sulamoyo left his native Malawi and sought a new home in the central part of the U.S. In Illinois he soon found a home with a family that graciously offered to pay for his education. Excelling in his studies he completed his Bachelor's and two Master's degrees, graduating Magna Cum Laude. In 2011 Dalitso receiving his Ph.d. degree.
Dr. Sulamoyo was hired by the Illinois Association of Community Action Agencies in 1999, and in just two years became IACAA's youngest and first African American President/CEO. He served in that capacity from 2001 to 2017, receiving multiple awards and recognition for his work. They include:
(1)            Recognized in 2002 by the Sringfield Business Journal as one of the 40 under 40 business leaders in the Greater Springfield area.
(2)             Honored recognition by the Illinois General Assembly for his leadership and commitment to fight against poverty in Illinois with House Resolution 544.
(3)             The Martin Luther King Jr Service Award by the Illinois Association of Community Action Agencies for leadership in fighting for social justice which he received in 2009,
(4)            The Martin Luther King Jr Humanitarian Award from the Illinois Head Start Association for his leadership in fighting for social justice for children and families.
With the recent announcement that he would be leaving IACAA to persue other community service opportunities in Illinois the Agency deemed it appropiate to redognize his work by giving a $4,000.00 grant to assist the people of his birth nation. The Malawi Project was selected to administer the funds.
Plans are currently under way to form the Joseph Project, a program focused on helping bring local village communities into agricultural co-ops, and establsh facilities to store grain against possible famine, as well as having local resouces to feed widows, orphans and the needly. For more information about this program go to the following sites.
https://www.malawiproject.org/saving-for-the-future-part-1/