MARTHA'S LIFE IS THREATENED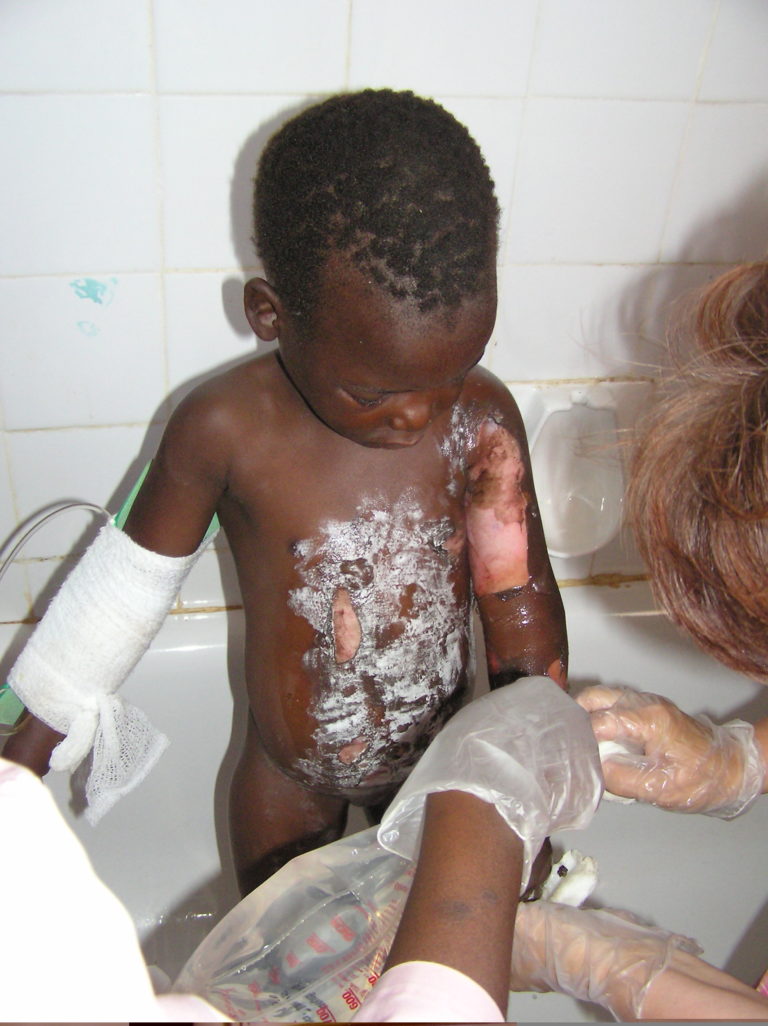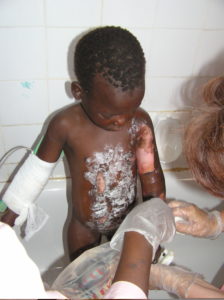 "Mama Suzi, Mama Suzi, come 'STAT'", resonated urgently over the intercom from the hospital. I did not know what I was going to find as I ran from the house to the hospital, down the long incline of steps and across the courtyard. The term 'STAT' was used only for very critical situations, and in the three minutes it took me to reach the hospital my mind pictured our treatment room where the needed supplies were located for fast retrieval. So very different here from the ER rooms in America where a highly trained staff would anticipate my needs and have them ready before I even reached the door. I took a deep breath and opened the door.
Little 4-year-old Martha was being held by her father whose face reflected stark panic.  She was wrapped in a dirty chatinje, and little more than her face was showing. Martha was not crying but staring straight toward me, anguish and fear reflected in her big brown eyes. She stared directly at me. She did not cry as the dirty wrap was removed revealing severe burns over her arms and torso.
I took in the view in front of me, "This should have been extremely painful," I thought to myself. "Was it all third degree burns I wondered? Was she in complete shock and not able to cry?" I was stunned.
"Who is this beautiful brave little girl?"  Skin was hanging down off her little body and needed removed so she could have at least a chance to live without infection. Quickly I gave orders to the staff and we took her to a bathtub in a patient room. I was given 5 bags of outdated IV fluids that we used for wound care. It was the cleanest water we had. They carefully removed Martha's burned clothes as I punctured the IV bag with a small needle. Starting from top to the bottom I began squirting the fluid in a strong small stream, literally hosing the dead skin off. I did not want to touch her until absolutely necessary to dress the burns on her little body.  I talked quietly and as soothingly as I could, and she continued staring me straight in the eyes the entire time. No crying, no fighting, not one muscle moving. My hands soon grew fatigued from squeezing the bag so hard, but it was working. Black burned skin fell off, leaving moist pink skin underneath.
"She fell into a fire used to prepare the families dinner," said the father. It was a common occurrence, as every day, every village was filled with open cooking fires that threatened the lives of children running and playing with their friends.
I had never worked on a patient as seriously burned as this tiny child. Someone in the village had tried to help with the burns but they were far too serious. Here in Malawi, with such limited resources, her chances were almost no chance at all of survival. It was certainly good the family had shown the wisdom to bring her here where we have supplies from generous donors, and she has at least some chance of survival.
I continued to clean the wounds but in so doing little Martha witnessed large patches of burned skin coming off. It didn't matter how careful I moved the IV-fluid. The spray caused black skin to slide off revealing the next layer of skin, quite pink and white. As Martha, only 4-years-of-age, looked at the white skin, then at the white nurse cleaning her wounds, she started crying uncontrollably.
"Is there nothing that can be done for the pain," someone asked? A Malawi nurse responded, "It is not the pain that is causing her to cry, it is her fear that the nurse from America is turning her into a little white girl."
Past Situation Can Help
I was glad when I heard Dick's voice and knew he had arrived. Little Edies, one of the girls in the orphanage at Mtendere had been seriously burned a few months earlier when riding in a wheelbarrow beside a bucket of boiling hot water. The little boy pushing the wheelbarrow decided to run down a hill and the wheelbarrow tipped over with Edies and the boiling water. She was seriously burned and followed the same course little Martha is now on, facing the loss of the outer layer of skin and alarmed with the appearance of part of her is turning white. Now she was needed, and Dick ran to find her.
Edies arrived and for some time sat at the bedside of little Martha and explained how cleaning her skin was necessary, and having it turn white was not something that would always be. "See," she said as she revealed the burn areas on her own chest and stomach, now a bit pooka-dotted as the black had started filling in where white had held sway for several months. Martha's fears began to subside as Edies assured her it was alright. This may have been the first time Martha had ever been in close contact with a white person.
Over the next few months I shared my three meals each day with Martha so she could get the protein and healthy food she needed to heal. At first, I had to feed her, and the new flavors were very strange to her, but she eventually began to like them.
The daily change to Martha's burns were a whole other story. She knew each time I stepped into the room to dress her burns that this visit was going to be very painful. She was no longer the quiet little girl. I began daily incentives to get her cooperation. The first was a big, soft, new teddy bear she loved, then a new pair of shoes, a new dress, a new toy and so on. Then as though she had more than enough, this sweet little girl began asking not for herself, but for her family. Mom, and then Dad got a new pair of shoes, clothes and shoes for her siblings, whatever she came up with I tried to provide. It became a game to see what she would ask for. Honestly, I loved bartering for a non-moving, non-crying little patient. Soon I had to fly home, but the staff continued to bribe her to have a compliant patient. I thought of Martha often and was glad when I heard she was able to go home and become simply an outpatient, coming only for dressing changes as needed. When I had first seen her, I did not believe she would survive from her burns, but each day the Silvadene ointment and sterile dressings – given by loving, caring donors – gave her another day to live. However, this was not the end of the story. The best for me was yet to come.
Martha Becomes the Caretaker
The next year came and I was so busy I did not think a lot about Martha, she had healed perfectly, pooka-dots and all. The second building of the hospital was finished, and all the supplies needed for the five new units and a state-of-the-art ER room were coming to a close. It was a trying year, my resistance was low, so my antimalaria medicine was not enough to keep me from getting malaria, yet again. I was actually the first patient in our new hospital wing, but not conscious enough to appreciate it. Many friends came to visit, and Dick would pass the time watching over me, and visiting with them while I slept. Each visitor would ask him the same question, "Who is the little girl sitting quietly at the head of Suzi's bed?" "Oh, that is Martha, a little girl Suzi cared for last year, and they became close friends. When she heard Suzi was sick with malaria, she made her parents bring her to the hospital so she could be Suzi's 'caretaker'".
She sat there to make sure I was given good care. This has always reminded me of how caring the people of Malawi are to the visitor. I have always said and will say it again. I can never out give my Malawian's. I give from the abundance of our supplies from loving caring donors. They give of their nothingness, their poverty, but it ALWAYS trumps mine. They give of themselves.
(While this story took place a number of years ago, it is still a vivid reality as children like Martha are being burned in cooking fires, and in critical need of medical supplies for their care.)