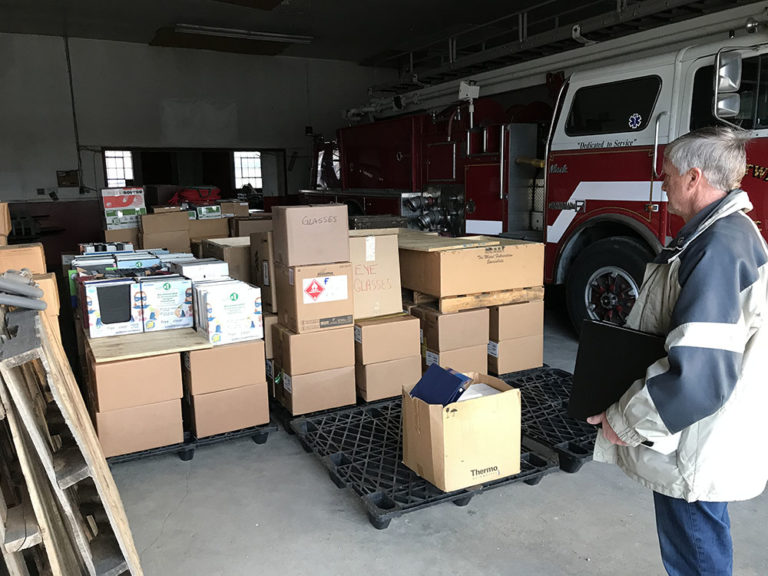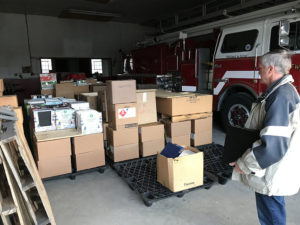 Lebanon, Indiana … The beginning of 2020 saw members of the Malawi Project stepping off into another year of activity, on faith. Anticipating funds will be available by the end of January for a major shipment of school textbooks, medical supplies, and library books, to Malawi, sorting, and staging has begun in a warehouse in downtown Lebanon, Indiana.
Minus the firetruck, (it does not belong to us) thousands of pounds of books and supplies arebeing placed on pallets, and additional supplies moved from the various storagelocations to the central site, in preparation to ship one or more 40-footcontainers, by the first part of February.
Jim Messenger, amember of the Board of Directors looks on with some relief. Moving 11,000 lbs.of school textbooks to this location means he will again be able to get intohis garage, as will other members of the board as their homes see supplies moveinto the warehouse. More important than this fact, however, it means thesesupplies will soon be on their way to Malawi where they are critically needed.It also means the resumption of donated supplies can begin anew with somerelaxation of the space problem in the Indiana warehouses.
The new warehouse, finished in late 2019 near Lilongwe, can hold approximately six 40-foot containers of supplies. For those who can assist in getting more than one container on the way to Malawi, please make your contribution at www.malawiproject.org/donate/