ONE PERSON'S JOURNEY OF INVOLVEMENT
Amber Finds a Mission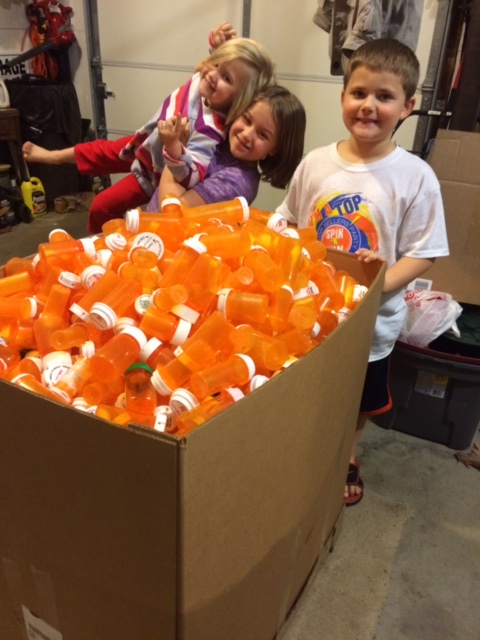 I learned about The Malawi Project from Facebook (pill bottle collection) in the fall of 2015. My son was a wolf in Cub Scouts, and the boys needed a service project. The pill bottle collection was something simple they could do and feel like they were making a difference. I did research on the web page so I could present the project to the boys. My son and his friends collected over 5,000 bottles from their school, church, and neighbors. Dick and Suzi Stephens, members of the Malawi Project board, came to collect the bottles and talk to the scouts.  I was hooked!  The kids and parents learned so much and saw the need.
After that, I started helping with the birthing packs program. I reached out to friends, family, church and school friends for help. My goal was 50 packs. The easiest way was to ask for small amounts of money or small donations of supplies. I used the money to buy the supplies that were not donated. I also had my kids donate toys and their time helping organize the packs. That project took much of a room in my home. Since that time it has grown so much I'm up to an entire garage of donated supplies!!
Repeated the Same Method
The following year I used the same method to organize medical supplies and gloves. I now included an Amazon wish list. I had friends send me items from Coast to Coast!  It was such an easy way to organize items I needed, and most people took advantage of the free shipping.
At the end of the school year, I ask friends to share their kids' old supplies and textbooks they no longer needed. I also ask teachers to save the old supplies they would usually have thrown away.
I find the easiest thing to do is just ask. Most people don't think their supplies could possibly help someone else. I have found that if I organize it, they will give.
Involved from the Beginning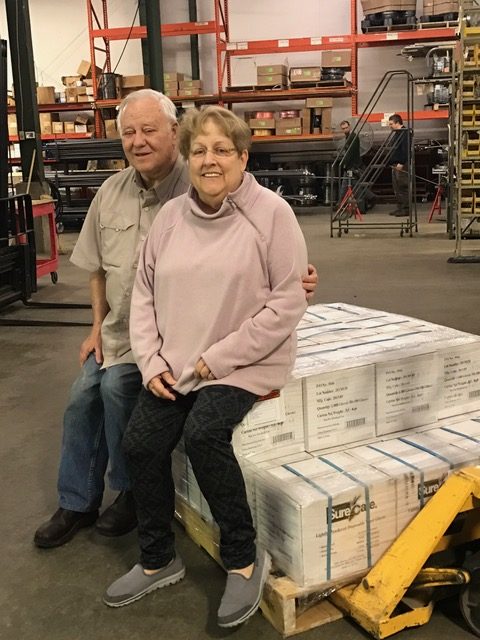 My parents are Steve and Rosie, and they own a small business, a distributor specializing in industrial hydraulics located in Lafayette. Like my family, they have been especially moved by stories about Malawi. They started helping from the beginning, and have helped on each of my collections starting with pill bottles. This year they felt moved to help in an even bigger way with the donation of 26,000 pairs of gloves. They felt it would help so many, and now they see the need for supplies is never-ending.
Part of the reason I choose to help the Malawi Project is that I can see through Facebook updates, and the newsletters, just how my donations are being used. Seeing that no donation is turned away or shunned is important. I know my donation is getting where it needs to go. I also try to help in my community as much as I can. I feel I can help both equally.
Now my kids always know that their old toys, clothes, etc will go to Malawi. They are very good at looking for items to purchase or donate. We always try to purchase new items too. Something that struck me was how most never get a new pair of socks or underwear. That made me sad, so I always try to send new packages.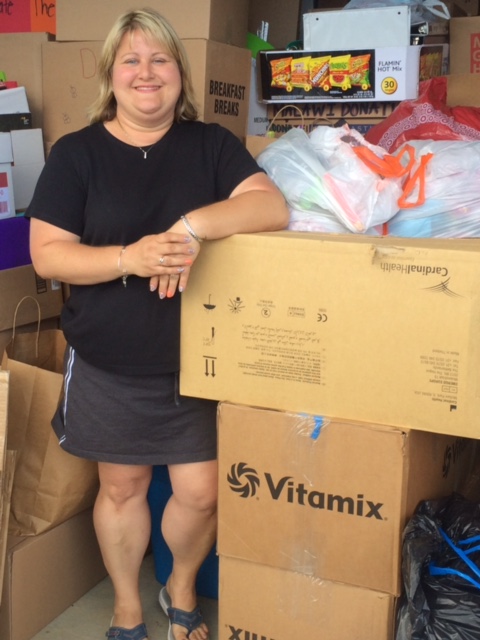 A recent story about a young person who was burned and had no sterile gauze or ointment really hit home with me. I purchased many specialized bandages and ointments to ship over.  I just hope that it will ease someone's pain!
Amber Brad
Lafayette, Indiana
Note: Thanks to Amber and thousands of others around the nation over 3 ½ million pill containers were collected for Malawi. This program has now been concluded.