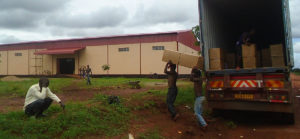 Lilongwe, Malawi … "Don't get me wrong," notes Richard Stephens of the Malawi Project, "the rains are needed, and are in fact critical to the survival of the crops in Malawi. But, at times they can be quite inconvenient!"
It is January in central Africa, and daily, torrential rains are not unusual, from the first of November to the first of April. Commerce and movement in the countryside moving along dirt paths, and clay and dirt-packed roads can often become impassable during the rainy season. Vehicles can face possible isolation for hours as they slip and slid to a halt along these dangerous roads.
The location chosen for the new distribution center west of Lilongwe was favorable because of proximity to a good, wide, well-drained roadway. However, success offers opportunity, and opportunity often offers additional challenges. With the completion of the warehouse and the coming of the rains, also signaled the arrival of a January shipment of mobility units from Indiana. Arriving in the rain, the driver realized the drive from the roadway to the loading door had not yet been completed., and he could not back up to the dock. There was no choice. Two hundred mobility units, weighing just over 100 pounds each, were unloaded by hand. Obviously, the strain of carrying each unit through the muddy field to the building could be seen on one of the workers who sat down by the road to take a break from the weight of the job.
If you can help to create a gravel roadway to the building before the next please go to www.malawiproject.org/donate/