RUTH PAINFULLY FACES FAMINE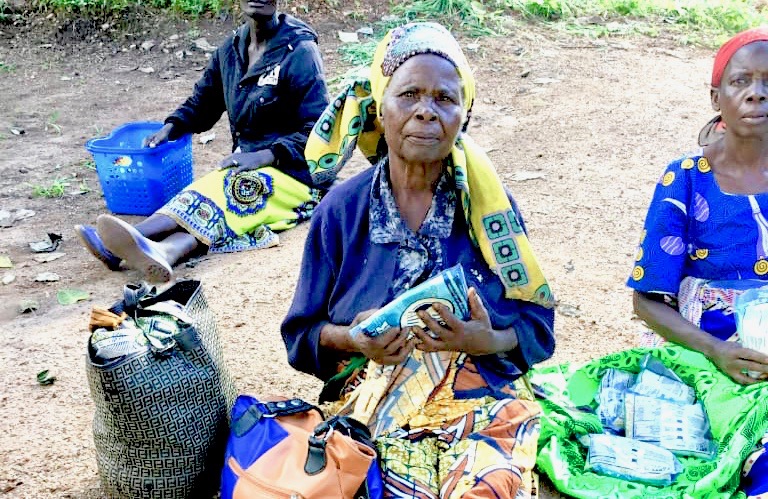 We are confident the isolation we are feeling because of the coronavirus will pass and we will move our lives back to normal. Well, at least normal for those of us who live in developed nations! Normal is not the same for the people in Malawi who are suffering famine and have no way to anticipate the end of the suffering. They are not suffering because they can't go outside. They are not suffering because they cannot visit their favorite restaurant or go into the office or workplace. They are suffering because they can't eat. The famine, for them, is growing worse and for many of them, the ability to cultivate their fields for next year's crops is something their weakened bodies just cannot tolerate. Compare your current situation with that of Ruth Aaron in Malawi. You may find there is little comparison; you still have the best of all worlds.
————————————————–
Chinchembele Village, Dowa District Council, Malawi … Not far to the east is Lake Malawi, and the recently enhanced Nkhotakota Game Preserve. Between 2016 and 2017 the area gained international attention with the transfer of five-hundred and twenty elephants, and fifteen-hundred game animals, from Liwonde National Park and Majete Wildlife Reserve, as part of a historic elephant relocation.
One of the longest waits a person can experience is when you are starving and waiting for food. A large number of people had gathered at this location after being selected to receive food. Of all the people at the site Ruth Aaron, born in 1942, was perhaps the oldest. Today, she is waiting, not to see the giant elephant, or to walk along the sandy beaches, but for something to feed her family. Ruth is starving, and she has come to see if someone can give her food.
Griven Kasalika and Wilson Tembo were distributing food relief to the most vulnerable, and Griven noticed Ruth. He went over and sat down beside her. At first, she could hardly see him because of partial blindness, but with the help of her neighbor, Margret, her story began to unfold.
In her old age, Ruth had thought her two children would care for her. It is the way of life in Malawi, children care for their aged parents. No one considers otherwise. However, both had passed away, and Ruth is responsible for feeding and supporting her grandchildren. Ruth is not alone in her plight. Because of HIV/Aids, and other diseases, many older Malawians face the responsibility of raising grandchildren. So many are suffering. Concerning Ruth, Margret added, "Because of her age and condition, we try to give to her food, but it is so bad none of us have food. We are all starving."
Grivin recalls, "We visited for a time, and I realized there are so many in the same situation as Ruth. At the same time, many of us throw out so much of our leftovers. If we could only realize what her life is like, and the lives of millions without food, we would not be so wasteful. I was glad to see Ruth able to get her food packet."
As they prepared to leave, they found Ruth preparing to walk home. They transported her close to her destination. As they watched her move away from their car, Grivin gave thanks to God for the food that had come, and the chance to help these suffering people.
Thanks to a cooperative program between World Emergency Relief in California, Universal Aide in Vancouver, Canada, the Malawi Project in Indiana, and Action for Progress in Malawi people like Ruth are surviving the famine. You can help those who cannot help themselves. Go to:www.malawiproject.org/donate/ and program a monthly contribution, or mail your check today to Malawi Project, 3314 Van Tassel Drive, Indianapolis, IN 46240.