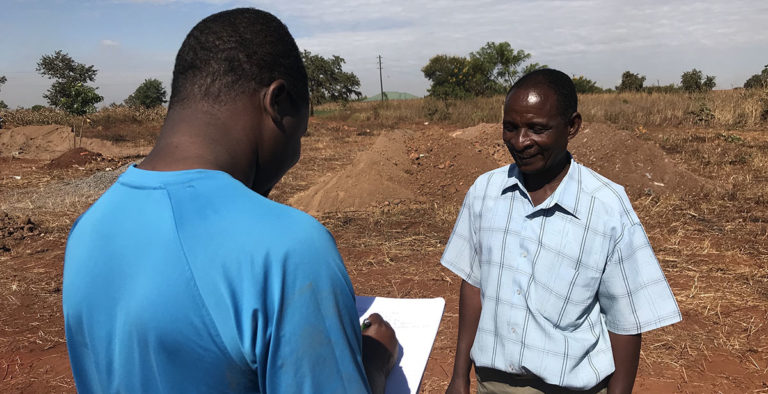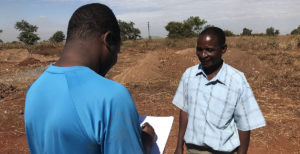 Lilongwe, Malawi … He was on the job site nearly every day the entire time the Action for Progress Distribution Hub was under construction. Now he can take a few days off and relax with his wife and 5 children. The distribution center was completed within his original budget proposals and in time for the Grand Opening well before the rains begin in October.
His name is Alfred Chiwale and he is the owner of the quite successful Diamond Building Contractors. Early this year Action for Progress contracted Diamond to construct the new work center west of Lilongwe, and while the Malawi Project raised the needed funds, Wilson Tembo of Action for Progress worked with Chiwale to meet a projected completion date between late August and early September.
Chiwale was born in 1960 and hails from Mpasuka Village, Blantyre District under Traditional Authority Kapeni. In his early years, he developed his skills and education working first at S. R. Nicholas Construction Company, hen to Terastone and Westborne Development Companies. It was during this time that he gained the needed knowledge and experience to begin his own company.
In 1994 he launched Ziwale Building Contractors, a name previously used by his father for his business Ten years later he registered the Diamond Building Contractors, a company that has emerged a medium scale business in Malawi. After its establishment, two other business people saw its potential and joined Alfred in a partnership.
In the past year Diamond has been awarded contacts for refurbishing work at the Kamuzu International Airport, work on other two stories office buildings, as well as individual housing contracts, and on April 1, 2019, underbid three other contractors to gain the contract to build the distribution hub for Action for Progress in Lilongwe.
Arriving in Malawi to celebrate the Grand Opening of the Center Richard Stephens, co-founder of the Malawi Project, made the following comment. "Looking over the workmanship and quality of this building I would say it is as good as anything built in America. On a scale of 1 to 10, I have looked it over from every direction, and I give it a 10."
Diamond is a business in the MK50 Million Category.
Pictured  is Wilson Timbo (left) interviewing Alfred Chiwale (right).