Asidi Chisale Saw Us Pass Him
Zomba, Malawi … As they neared the village, Wilson Tembo saw him waiting for the vehicle to pass in front of him. Because he was crawling on the ground it was too dangerous to be near the roadway as traffic passed at a high rate of speed. Little did he know the people in the white Toyota were coming to meet with him. After they passed, and it was safe to crawl along the edge of the road, he made his way slowly into the village. Tired and dusty he moved to a place beside a big tree and sat down. His face, though drawn from the exertion of the trip, revealed a measure of excitement. For the first time in a long time he had hope. He had crawled in the dirt most of his life, and at 48-years-of-age he had experienced it all. Traveling in the rainy season was the worst. He would have mud from head to toe, and because he was down on his hands and knees he would have it all over his face, even eating bits of the muddy earth as he tried to go from place to place. The dry season has its problems as well; dust and dirt choking his throat, and clouds of dust enveloping him every time he ventures near the dirt paths and dusty roads.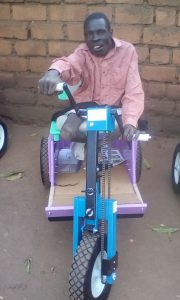 It is at this moment that Wilson Tembo, Warehouse Director for the Malawi Project, picks up the story.
"We were in this village to distribute eight mobility units to the physically challenged. It was here we met Asidi Chisale. Asidi is a physically challenged person who hails from Njenjema Village in the southern Zomba District. Asked what caused the problems in both legs, he remembers his parents telling him it was polio. Asked how the mobility unit will benefit him, the 48-year-old man said he will be able to visit friends, go beyond his former boundaries, and most importantly he will be able to worship God. He also noted that as a farmer, he will be able to peddle his new unit to his field. This was very difficult before, but now it is possible."
Asidi Chisale Applauds Contributors
After receiving the brand new cart Asidi could hardly believe he had received such a beautiful gift.
'I am very thankful to the people who have made this possible. If I had a chance to meet them, I would shake their hand in appreciation for this."
As we drove back from this village, it was evident these carts are not just a means of mobility, but are a means of fuelling development in this country. Mr. Asidi, will no longer be dependent on someone to work for him and provide his every need. He will now be able to work and earn his own living."
Tembo concludes, "Together, we are changing the nation."