Lilongwe, Malawi … "I clearly remember the tribal chief whose eyesight was so bad he thought people along the road were trees," observes Dick Stephens, co-Founder of the Malawi Project. It reminded me of the Bible story in Mark 8 of the man who was partially blind and thought the people walking nearby also were trees. In the case of the Malawi chief, we fitted him with a pair of glasses and drove him home. All along the way he kept saying in amazement, 'They are not trees, they are people!"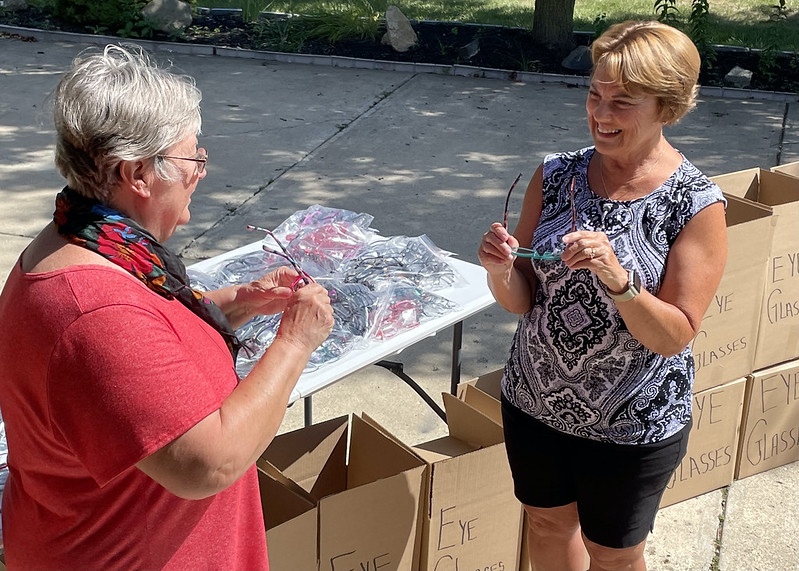 Thanks to a major contribution, 2,000 reader glasses have been purchased for Malawi.  
Upon viewing the large display of glasses Rae Ann Messenger, a volunteer with the Malawi Project, former operating room nurse, and wife of the Project's Treasurer noted, "I was a Registered Nurse for 40-years. During that time, I served in the operating room, assisting eye surgeries. I saw first-hand the importance of good vision," says Rae Ann. "Four times I traveled to Panama, where I participated in approximately 125 eye-surgeries a week. Over and over, I saw the problems when good vision was unattainable."
"I have also been to Malawi," she recalls, "Here, I also saw an alarming lack of vision assistance. It just simply did not exist. Large numbers of people cannot see to read, and many have problems going outside their huts. The saddest part is this, they may only need an inexpensive pair of reader glasses to solve their problem. These could change everything, yet so few can afford them. I am really excited to see this contribution of 2,000 pairs of reader glasses that will soon be in the hands of those who badly need them but cannot afford to buy them. A pair of glasses and the 'walking trees would become real people."
Pictured are (left) Suzi Stephens RN, the Medical Director for the Malawi Project, and (Right) Rae Ann Messenger.