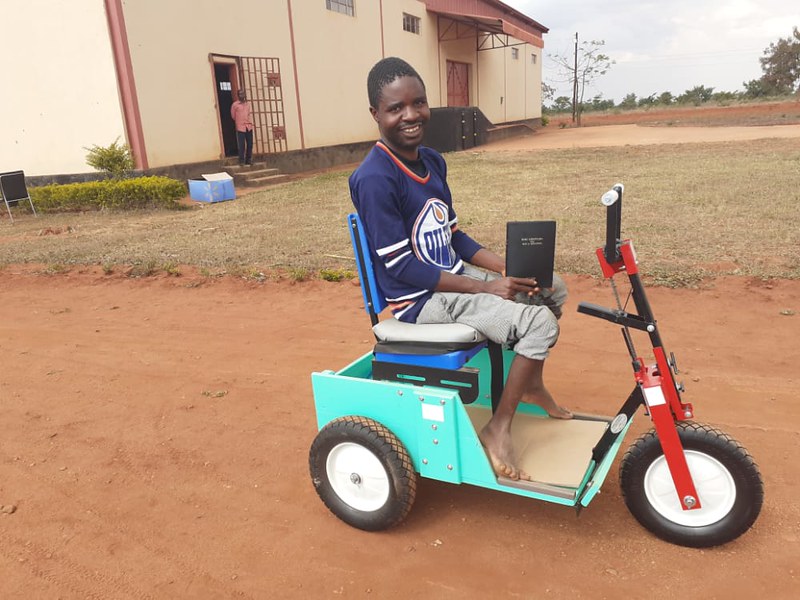 Dedza, Malawi … The customer was quite impressed with the owner of the business. In spite of being physically challenged he was positive, optimistic, and hard working. Unlike so many people with his problems he was not on a street corner begging for food. He was coming to work every day to earn a living for his family. At 30 years-of-age Sakondwela Francisco was looking for every opportunity to grasp new opportunities to improve his life. The visitor knew something that could change Sakondwela's life. In fact, if he offered this information, it could easily bring about a life changing difference for this storekeeper who crawled to work on his hands and knees each day.
The good and caring customer knew about Action for Progress and the program of giving thousands of mobility devises to those in need. He told the storekeeper about the program and the location of AfP's offices. A few weeks later while on a trip to see his brother in western Malawi he passed near the offices of AfP. He stopped to request their help. 
Sakondwela explained he had developed this problem at the age of 11. Living in a remote village he was far from a healthcare facility, and his family was unable to help him receive immediate and adequate care. He failed to go to school because it was too far away and had inadequate infrastructure for the physically challenged.
However, none of his difficulties seemed to stop him. He continued with a positive approach to opportunities and jumped at each now one that came along.
Sakondwela had conveyed his situation to AfP before his arrival, so they were aware of the circumstances and had already checked his background. The response to his request was immediate and positive. 
As Sakondwela crawled to the turquoise, blue, and red mobility unit his face lit up with excitement. Adding to the new mobility unit was a new Bible, both belonging totally to him.
"Now I can do the business I had planned," he said. "I will be able to buy and sell maize. I will also be able to move from my house to the market, and I can go to church services," he added with a smile.
He thanked AfP and expressed his prayer that AfP will continue the good work they are doing. To the staff at AfP it was a good day and a day when dreams become reality.