TYPICAL TRADING CENTER – MPONELA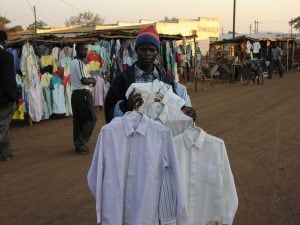 When one thinks of African Trading Centers it is not hard to imagine them in the heart of the sub-Sahara, and when one travels to the sub-Sahara, it is easy to find the typical trading center in the tiny nation of Malawi. Then when one moves about in Malawi there can be found typical African trading centers scattered throughout the countryside. They offer trade and commerce for the local population, often a population of small village clusters where the population is poor, and can only reach nearby destinations to which they can walk in a day.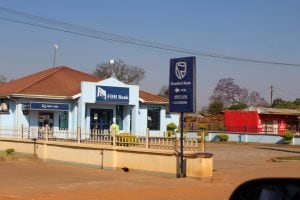 Straddling the main highway, M-1, north of the capital city of Lilongwe, Mponela bulges out on both sides of the two-lane tarmac road and listed a population of 11,222 in 2012. Figures since that time appear to be unavailable. Located in the Dowa District, Mponela is 60 kilometers, or about 38 miles north of the capital. Like other trading centers, the majority of the stores and shops are crowded along the main street, in this case, the main highway, with ribbons of commerce slipping off to the sides for just a single block or two. Other than the main road, all others are footpaths or dirt roads, and the town is nearly always shrouded in a thin blanket of dust, and the smell of cooking oil from the street fires where small stands offer fried potatoes (chips), grilled chicken parts, or fried mice on a stick (minus the stick that was used to roast them over the fire).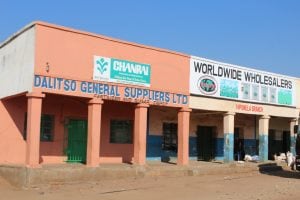 Moving from shop to shop one will find most of the things that are needed for a simple life, someplace in town. Although the store names often hide the facts of what one may find within, a bit of a search, and a few questions directed to the local people will often give a hint on where your items can be found. Crowds sometimes make movement a bit tough, and purchases can take much more time than one would be expected. Most receipts are still written out by hand, and packaging and counting the needed Kwacha are not as easy as swiping your card through the credit card reader in a U.S. store.
There are no American chain stories in Mponela, so you cannot stop at the local McDonald's, Hardee's, or Arby's. In fact, there are no drive-through restaurants at all in Mponela. There are a few local restaurants, but most will be serving either, "chicken, chips and nsima," or "fish, chips, and nsima", and much of the time there will be only one of these from which to choose. It is often easier to ask what they are serving today rather than taking the time to look at the menu only to learn there is only one thing available. Try finding a Diet Coke and they will often shake their head as though you were seeking a T-bone steak. Frequently it seems the entire nation has run out of this popular drink in America.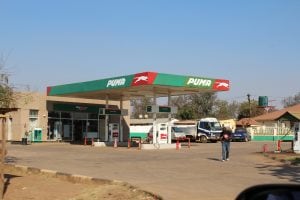 A pair of jeans or a dress that is not quite up to your standards can easily be corrected just outside the store. Sitting on the front steps of many stores will be local tailors, and they will expertly hem a pair of pants in minutes, or put some frills on a woman's dress while you wait. Branches of the main banks are scattered along the main street and as long as you don't want to exchange too many traveler's checks for Kwacha they will be smilingly ready to assist you. The local rural hospital offers some simple measure of health care in dingy beige buildings near the north end of the community, and a bit to the west behind the local PTC store. Music blasts away from a number of local outlets, and there seems little in the way of noise control by the local police department. A couple of motels offer a measure of convenience, and in recent years several new petrol stations have made their appearance along the main highway.